Kärcher WV 1 Window Vac & Kärcher 2.633-129.0 Window Vac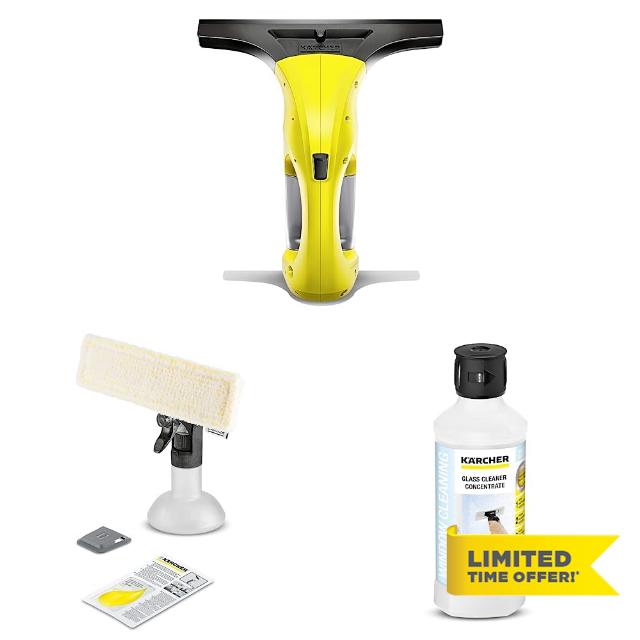 Kärcher WV 1 Window Vac & Kärcher 2.633-129.0 Window Vac Premium Spray Bottle Kit & Kärcher Window Cleaner Concentrate RM 5
Kärcher WV 1 Window Vac
The Kärcher WV 1 is an innovative handheld cleaner that effortlessly sucks up moisture and leaves surfaces streak-free, clean and dry. You can use your WV 1 on condensation too, whether it's inside your home or steamed-up windows in the car – just one quick wipe and the job's done. This versatile tool isn't just for windows – it's ideal for tackling all kinds of cleaning jobs around the home, with a fixed 250mm cleaner head that's ideal for shower screens and tiles. Leaves mirrors sparkling clean and perfect for sucking up liquid spills from floors and worktops. The Kärcher WV 1 is rechargeable, lightweight and easy to use, with a built-in powerful lithium-ion battery that lasts up to 25 minutes cleaning up to 70m² in just one charge.

Kärcher 2.633-129.0 Window Vac Premium Spray Bottle Kit, Grey
Kärcher 2.633-129.0. Brand compatibility: Kärcher, Compatibility: WV 2 Plus WV 2 Premium WV 2 Premium Plus WV 5 Premium, Colour of product: Black, White Features . -Brand compatibility: Kärcher. -Compatibility: WV 2 PlusnWV 2 PremiumnWV 2 Premium PlusnWV 5 Premium. -Colour of product: Black, White

Kärcher Window Cleaner Concentrate RM 500, for streak-free cleaning of windows, glass, mirrors and shower screens, 500ml concentrate dilutes to 4l cleaning liquid.
Kärcher glass cleaner concentrate is the perfect solution for perfectly streak-free windows and is ideal for use with the Kärcher window VAC system. Glass and mirrored surfaces can be extremely tricky to get right and it is all too common to find streaks and marks after you've finished cleaning. Our glass cleaner can help you achieve the perfect streak-free finish with ease. This Kärcher glass cleaner concentrate allows streak-free cleaning on all glass and mirrored surfaces, even with stubborn dirt and streak-prone stains like oils and grease. You can use the glass cleaner with traditional window cleaning equipment such as cloths, sponges and squeegees, but for the best trouble-free finish it's perfect for use with the Kärcher window VAC.
Product 1: Streak-Free Cleaning – The quick and easy way to clean flat surfaces, such as windows, tiles, worktops, condensation and mirrors leaving a sparkling, streak-free finish.
Product 1: Rechargeable Battery – The rechargeable lithium-ion battery cleans up to 70 m² on a single charge – that's up to 45 windows.
Product 1: Lightweight – Versatile and ergonomic design that can be used on all smooth surfaces.
Product 2: The size-adjustable pad holder allows optimal wiping of both wide and narrow windows
Product 2: Microfibre mop covers with Velcro attachment for quick and easy change
Product 2: Includes: Dirt scr for the toughest dirt and 20 ml window cleaner concentrate
Product 3: For streak-free cleaning of all water-resistant smooth surfaces, such as windows, mirrors, glass tables or glass shower screens.
Product 3: Removes even stubborn stains such as grease, insects and dirt without any surface damage
Product 3: Provides a fresh, clean aroma during and after the cleaning process
| | |
| --- | --- |
| SKU: | B0CBJBS1W4 |
| Colour: | Yellow |
| Pack Quantity: | 1 |
| Colour: | Yellow |
| Quantity: | 1 |