RMW Suitcase Cabin Size| Hard Shell | Lightweight | 4 Dual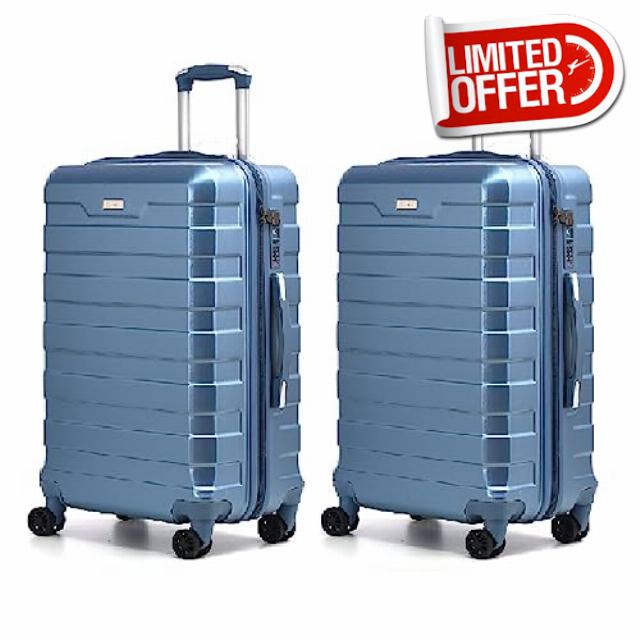 RMW Suitcase Cabin Size| Hard Shell | Lightweight | 4 Dual Spinner Wheels | Trolley Luggage Suitcase | Cabin 20″ Carry on Luggage | Combination Lock (Ice Blue, Cabin 20″ X 2)
IDEAL STORAGE SPACE: Transporting as many necessities as possible with as little inconvenience as possible . The RMW suitcase interior features packing straps to hold your clothes in place, as well as two elasticated shoe pockets, a zipped divider pocket for anything you want to keep separate, and mesh pockets for your documents.
EXCEPTIONAL QUALITY – This RMW luggage case is made from durable PC material which is lightweight and strong to withstand the rigours of modern transport. It will protect your contents from water, drinks, rain and other liquids during travel. The hard rigid shell is tough and scratch resistant and includes an integrated 3-digit TSA combination padlock to lock the trolley case together for added security.
TSA LOCKING: Whether you're a on a business trip or going away on holiday, we know your luggage is precious to you. The shell of this suitcase is made from strong and durable PC to withstand the rigours of modern transport. It also includes a 3-digit TSA combination barrel padlock to lock the zips together for added security.
FEATURES: Just getting to and from your final destination can be frustrating enough – your luggage shouldn't add to that stress. This stylish case features 4 spinner wheels, providing a full 360 degrees of manoeuvrability and allowing the suitcase to roll along comfortably alongside you, eliminating the strain of pushing or towing. With a height-adjustable retractable handle there's no need to strain your back; and you can even place small bags and essentials on top.
DETAILED INTERIOR: The Interior of the suitcase are covered with two layers of materials. Polyester fabric and a thin layer of foam, to increase elastic buffer and add comfort for our dear customers. Also with Interior mesh zip pocket and elasticated, squared full capacity design.
---
Product Description