Talisker Skye Single Malt Scotch Whisky | 45.8% vol | 70cl |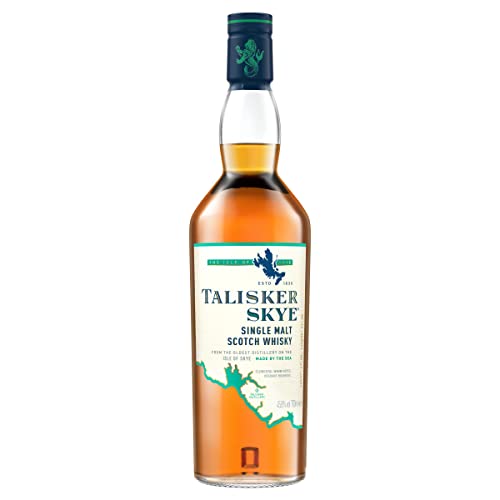 Talisker Skye Single Malt Scotch Whisky | 45.8% vol | 70cl | Scottish Whisky with Fresh Citrus Bursts & Underlying Sweetness | Peated & Smoky Single Malt Whisky | Made by the Sea
Produced at the oldest distillery on the Isle of Skye, Talisker Single Malt Scotch Whisky has been made by the sea since 1830, with its smell and taste instantly connecting you to its rugged maritime home. Every sip is a taste of the Isle of Skye itself, one of the most remote, windswept yet beautiful landscapes in Scotland. Talisker Skye pays tribute to the rich varied landscape of Isle of Skye – from soft, serene shores to the dark, jagged peaks of the Cuillin mountains. Talisker Skye brings with it a well-rounded and sweet flavour profile packed with fresh citrus, sweet smoke, peppery spice and traditional Talisker maritime notes. It's matured in a combination of refill and toasted American oak casks, with a slightly higher proportion of toasted casks. Talisker Skye takes the distillery's classically rugged character and softens it out, while maintaining the smoky and sweet notes the distillery is known for. Best served neat or with a little water, or with ginger ale and a squeeze of fresh lime for a refreshing long serve. More approachable, but undeniably Talisker, it's the ideal gift for those looking to start exploring the smoky world of single malts. To learn more and for a guided tasting experience, just ask Alexa 'open Talisker tasting'.
Directions
Savour it neat, on ice, with a mixer or in a cocktail.
Legal Disclaimer
Licensing Act 2003: it is an offence for any person under 18 years to buy or attempt to buy alcohol. Please drink responsibly.
ABOUT – Made by the sea on the rugged Isle of Skye, Talisker Skye Single Malt Scotch Whisky is well balanced and approachable, with a lively interplay between sweetness, smoke and spice
TASTING NOTES – fresh citrus bursts and underlying sweetness, matured in a combination of refill and toasted American oak casks for depth of flavour
HOW TO ENJOY – Best served neat or with a little water, or with ginger ale and a squeeze of fresh lime for a refreshing long serve
HOW IT'S MADE – The Talisker family all have a peated, smoky flavour. This quality comes from the peat burned during the malting process and carries on it the salted smoke of an island battered by wind and waves
PERFECT FOR GIFTING – Founded by the intrepid MacAskill brothers in 1830, Talisker is a whisky for adventurers, those happiest close to nature. It makes the perfect gift for adventurous wild spirits looking for a good way to start exploring smoky island whiskies
›
| | |
| --- | --- |
| SKU: | B004RYE9IY |
| Weight: | 1.4 Kilograms |
| Dimensions: | 31.8 x 9.8 x 9.8 cm; 700 Grams |
| Brand: | Talisker |
| Model: | 6-TA-033-46 |
| Manufacture: | Diageo |
| Origin: | United Kingdom |
| Volume: | 700 Millilitres |
---
From the manufacturer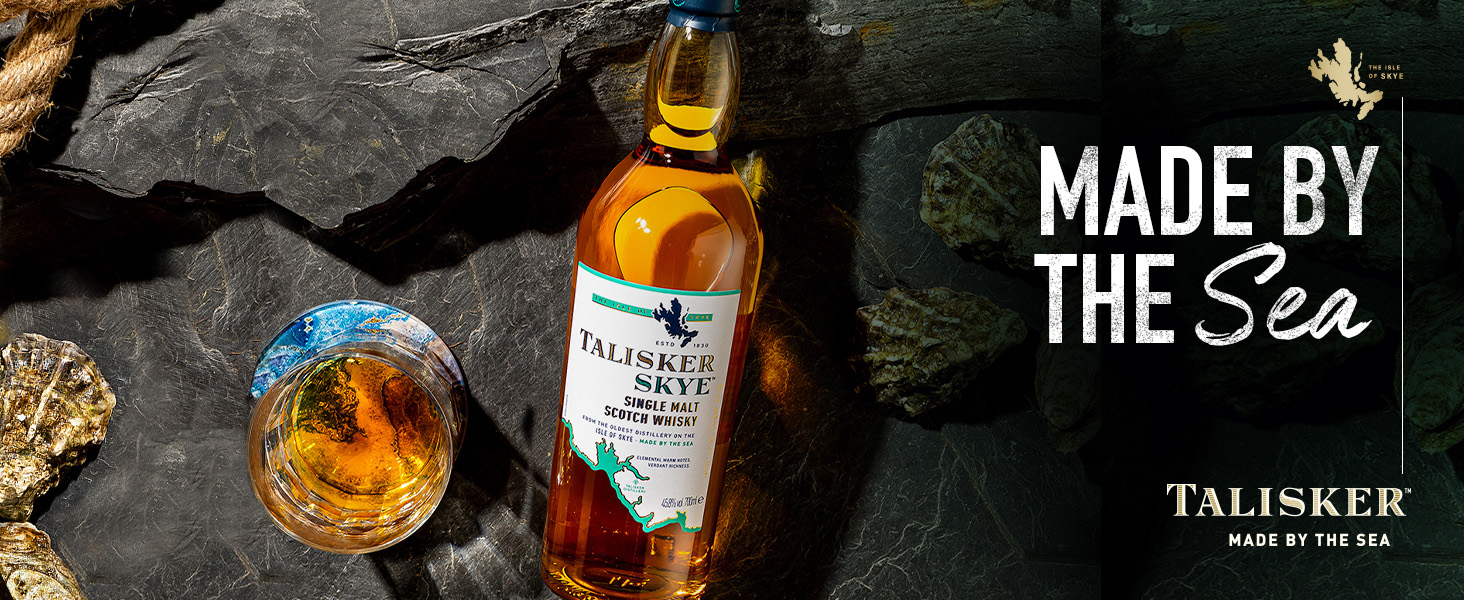 Fresh citrus bursts and underlying sweetness

" data-position="triggerHorizontal" />