EMtronics EMDAF9LD Dual Air Fryer Extra Large Family Size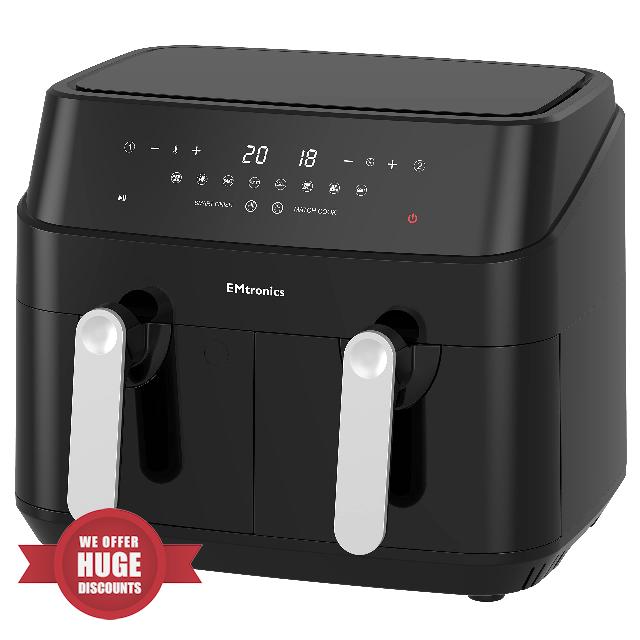 EMtronics EMDAF9LD Dual Air Fryer Extra Large Family Size Double XL 9 Litre Digital with 12 Pre-Set Menus for Oil Free & Low Fat Healthy Cooking, 60-Minute Timer – Black
Powerful 1200 – 1400W Air Fryer with 9L Dual Basket Capacity: In comparison to the standard, smaller sized air fryers available, this EMtronics Digital Air Fryer boasts a dual basket 9L capacity, allowing you to provide enough portions for you and any large group of hungry guests. Split into two different zones, this unique dual basket air fryer has a power rating of 1400W, meaning you can cook separate food items to perfection with ease (Dual Baskets can cook on different time settings).
Smart Controls & 12 Pre-set cooking programmes for different meals: Featuring lit-LED Smart Controls on the front panel, the Digital Air Fryer has never been so easy to use. Simply press the touch controls, key in the temperature requirements for your chosen dish and you're ready to go for either Basket in the Air Fryer's main cabinet. The 12 pre-set cooking programmes provide you with one-touch controls for added convenience.
Air Technology works with up to 80% less fat: Whether you're just starting a diet, in the midst of one or generally want to cook healthier meals, you can start with the EMDAF9LD Digital Air Fryer by EMtronics. High-circulation technology, accompanied by the super powerful 1400W motor means that you can cook dishes with 80% less oil than necessary with traditional methods. Unhealthy deep-fried dishes can be a thing of the past with this timesaving, health-promoting kitchen appliance.
Removable basket and pot for easy serving: Hosting a large group or cooking for the whole family? This Digital Air Fryer is a new way to impress your guests. Cook the meal of your choice, take the removable basket out of the main unit and serve at the table, providing convenience and saving time on washing up.
Auto-Off Function & 60-Min Timer: Feel completely safe and secure with the brilliant 'Auto-Off Function' which has been integrated. If in a rush, there is no need to worry as you can adhere to a specific time frame using the adjustable 60-minute timer. Simply key in your cooking time and let the Digital Air Fryer do all the work for you – all you must do is come back to a perfectly cooked meal and tuck-in.
| | |
| --- | --- |
| SKU: | B09HMHZFYZ |
| Weight: | 8.01 kg |
| Dimensions: | 45.2 x 41.5 x 36.29 cm; 8.01 Kilograms |
| Brand: | EMtronics |
| Model: | EMDAF9LD |
| Colour: | Black |
| Colour: | Black |
---
Product Description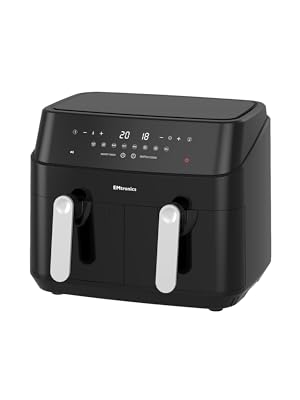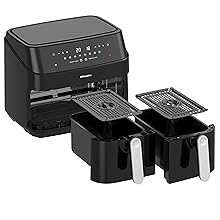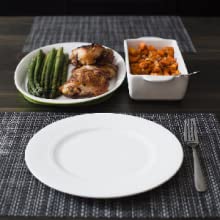 9 Litre Dual Basket Capacity
Have plenty of tasty foods and treats to go around with the huge 9 litre dual basket capacity. Split into two 4.5 litre sections you can cook different foods at different temperatures and times for optimal convenience. Just adjust the necessary settings and you're ready to go!
8 Preset Cooking Programs
Whether you're cooking cakes, chips or meat, the EMtronics 9L Dual Digital Air Fryer has a cooking programme unique to the dish you wish to make. This modern-day kitchen appliance is an excellent tool to create your favourite foods with no stress.
Dual Zone Function
The Dual Zone function utilises 'High Speed Air Circulation' technology ensuring that every dish is cooked all the way through as heat surrounds the interior of the two zones. Never have to worry about an unevenly cooked meal again regardless of the separated 'Frying Zones'.
Smart Finish Function
Cook different foods in each basket and then let the EMtronics 9LAir Fryer work its magic, if you want these food items/dishes to cook at the same time, just use the Smart Finish Function, so you and the whole party can eat at the same time.