Sanyun SW209 36W Computer Gaming PC Speakers – Multiple EQ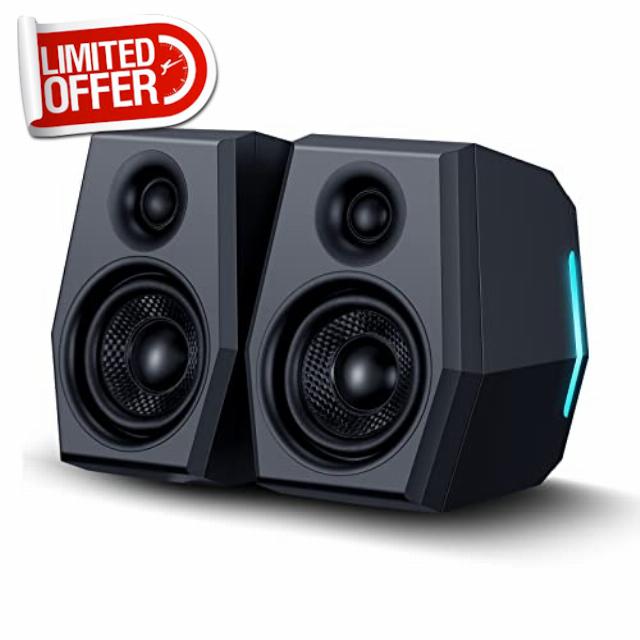 Sanyun SW209 36W Computer Gaming PC Speakers – Multiple EQ Sound Mode – Bluetooth 5.0 USB 3.5mm Aux Inputs -RGB Lights – 2.0 Multimedia Speakers – for Laptop Mac Desktop Monitor (Pair, Black)
【Superior Sound】2.0 HiFi gaming computer speakers with 3-inch glass fiber mid-low speaker unit and 18-core silk film tweeter, 36W total peak power to deliver unexceptionable sound quality.
【Multiple Sound Mode】Professional acoustic-team tuning, EQ adjustment, with three modes of music, movie, and gaming available for wired connection, suitable for multiple usage scenarios.
【Broad Compatibility】3.5mm Aux, Bluetooth 5.0 and USB sound card inputs. In addition, it is equipped with a USB-A to USB-A cable, and you can use other USB-A to USB-C connection cables with data transmission capabilities. It can effectively adapt to all your devices and be easily switched between them.
【RGB Backlit】16 RGB lighting effects and off, loop switching, committed to providing a better usage atmosphere by decorating your desktop and room.
【Delicate Design】Unique speaker structure design, irregular hexagonal structure and a 10 degree tilt angle, combined with carefully treated surfaces and anti-slip foot pads, provide you with a fashionable and high-end appearance and stable product performance. We hope you can enjoy our products comprehensively when using them.
---
Product Description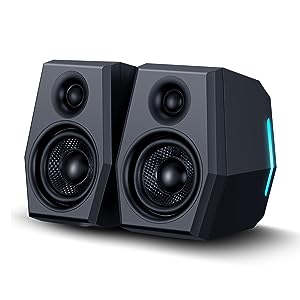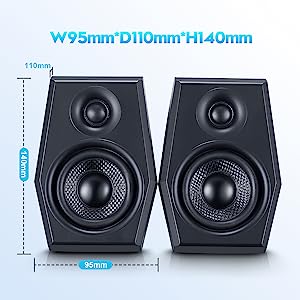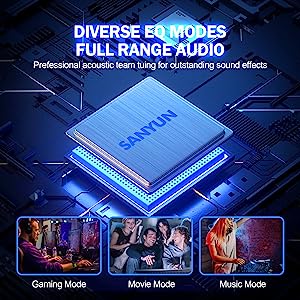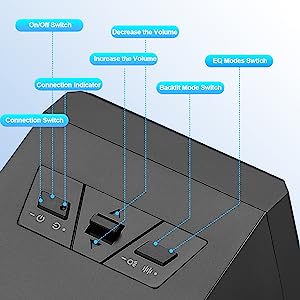 3 EQ Sound Modes
The sound has been adjusted for Music, Movie and Gaming on wired connection.
In music mode, the focus is on high fidelity and accuracy.
In movie mode, voice clarity is enhanced, and there are more sound details and dynamic effects.
In game mode, the emphasis is on creating an immersive atmosphere with low frequency sounds and clear audio feedback.
Broad Compatibility
USB cable and 3.5mm Aux wired connection, it is equipped with a USB-A to USB-A cable, and you can use other USB-A to USB-C cables with data transmission capabilities.
Bluetooth 5.0, stream studio-quality audio wirelessly from your smartphone, laptop, tablet. Suitable for iOS, macOS, Android, or Windows devices.
Mechanical Function Button
Easy to control volume by mechanical shift lever. Long press and short press the left and right buttons to adjust the lighting mode/EQ mode, connection mode/power switch, respectively, plus a dedicated power adapter for stable and safe power supply.