Wireless Carplay Adapter for iPhone, Wireless CarPlay Dongle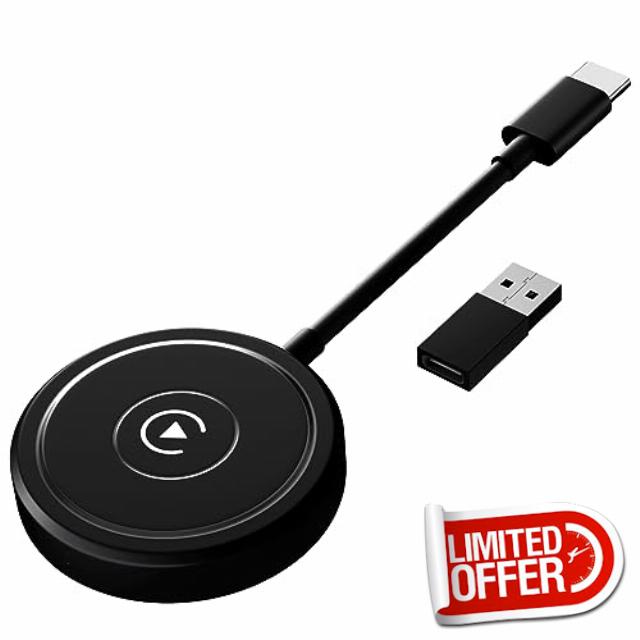 Wireless Carplay Adapter for iPhone, Wireless CarPlay Dongle Adapter, Bluetooth CarPlay Adapter Convert OEM Wired CarPlay to Wireless for Audi Porsche, Opel, Volvo, Mercedes etc, Support iOS 13+
【Fastest Mini Wireless CarPlay adapter】This is a plug and play Wireless CarPlay adapter for iPhone, no need to install any supporting app, you can simply plug this CarPlay adapter into the head unit and connect your iPhone to the wireless adapter, turn on the iPhone's wifi and sync the Bluetooth connection. This CarPlay wireless car adapter replaces the cumbersome data cable connection and installs expensive car systems and enjoy the technology to make life more convenient.
【How to get Wireless Carplay】1.Plug the wireless CarPlay adapter into a USB C/USB port in the car. 2.iPhone activates Bluetooth and WiFi and receives Bluetooth connection data for pairing. 3.Wait for the prompt and select " Use CarPlay ". Note: 1.Your car must work with factory wired CarPlay; 2.Please make sure your iPhone Siri is on, otherwise you can't get wireless Carplay; 3.Before connecting, please check iPhone Bluetooth and WiFi, the car Bluetooth is not occupied by other devices.
【Full CarPlay Functionality】After the first installation, this Carplay adapter will automatically start and quickly connect to the iPhone when the car engine starts.With the CarPlay Wireless Adapter, you can access all the features of CarPlay, such as music playback, phone calls, navigation, and voice commands, without being tethered to your vehicle. This means you can use your favorite apps and features, including Siri, while keeping your eyes on the road.
【Even Wider Compatibility】Wireless Carplay built in 2.4G MHz Bluetooth and 5.8G MHz WIFI chip, fast process speed, more stable connection.It compatible with more than 600 car models. Featuring a Type-C to USB adapter for even more options. This wireless CarPlay adapter is compatible with 98% of factory wired CarPlay vehicles. Available for iPhone iOS 13 and above. *Your car must have a factory wired CarPlay system in order to work with this adapter.
【Improved Driving Experience】 With the iPhone CarPlay Wireless Adapter, you can enjoy a safer and more convenient driving experience by reducing distractions and keeping your focus on the road. You won't have to worry about fumbling with cables or unplugging your phone when you get out of the car, and you can easily switch between different apps and features using the CarPlay interface. CarPlay Wireless Adapter making it easy to connect and providing a stable and reliable connection.
---
Product Description