DrinkMate OmniFizz Sparkling Water and Soda Carbonator
DrinkMate OmniFizz Sparkling Water and Soda Carbonator, Sparkles Any Drink, Includes 1L Re-usable BPA-Free Carbonating Bottle, Two 60L CO2 Cylinders and Patented Fizz Infuser (Royal Red)
CARBONATES ANY DRINK, NOT JUST WATER – Enjoy the sensation of sparkling water, juices, wine, cocktails, and even flat soda or beer. Perfect for the home bar or kitchen, the Drinkmate carbonate anything soda maker puts you in control with the push of a button.
DRINK HEALTHIER AND REDUCE PLASTIC BOTTLE WASTE – With the Drinkmate carbonator machine, you can avoid excess sugar and harmful chemicals while staying hydrated. Plus help the environment by carbonating drinks at home.
SAFE, QUICK AND EASY TO OPERATE – Our patented Fizz Infuser technology makes it safe and simple to use. No electricity or batteries required. Clean parts by hand washing only.
INCLUDES: Drinkmate OmniFizz sparkling beverage maker, One BPA-Free Carbonating Quick-Connect Bottle with volume measurement lines, Two CO2 Cylinders, and Fizz Infuser.
POWERED BY FOOD GRADE CO2 GAS: All brands of standard 60L CO2 cartridges in the UK work with Drinkmate (including SodaStream). Exchange empty cylinders with Drinkmate's convenient online exchange program. Details included.
| | |
| --- | --- |
| SKU: | B07VXK6LWP |
| Weight: | 4.29 kg |
| Dimensions: | 20.32 x 12.7 x 40.64 cm; 4.29 Kilograms |
| Brand: | DrinkMate |
| Model: | 410-03-14Zx2 |
| Colour: | Royal Red |
| Colour: | Royal Red |
---
Product Description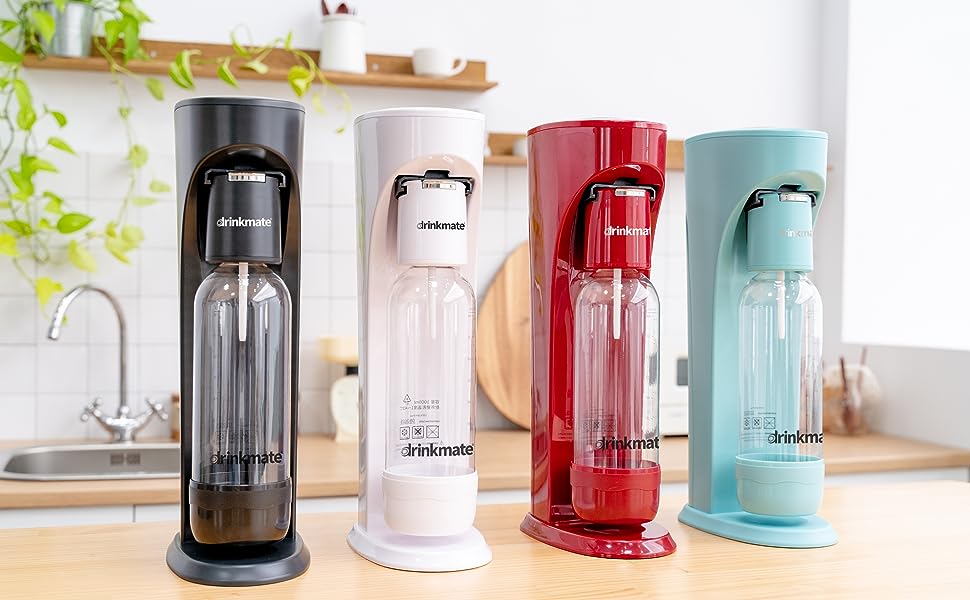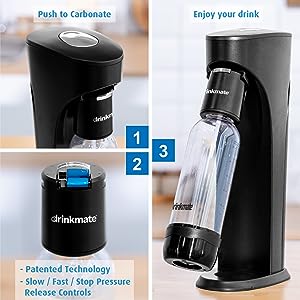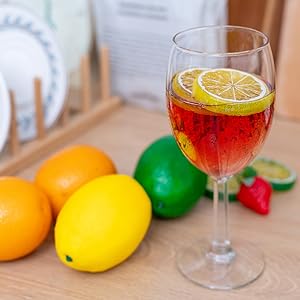 SAFE, FAST, AND EASY TO USE
Our patented Fizz Infuser technology makes sparkling your favorite beverages safe, fast, and easy! With other soda makers, you can only sparkle water, but thanks to the Fizz Infuser, the Drinkmate OmniFizz can sparkle ANY drink! Safe and easy operation. No electricity or batteries required. Hand wash only.
DRINK HEALTHIER
Tired of drinks with ingredient lists filled with dozens of chemicals you've never heard of? With Drinkmate, you're in full control. The only limitation is your own imagination.
SPARKLE ANY DRINK, NOT JUST WATER
Enjoy sparkling water as well as juices, wine, tea, and cocktails. Flat soda or beer? No problem! With the Drinkmate OmiFizz, you can carbonate ANY drink at the touch of a button!
Technical Specifications (OmniFizz)
| | |
| --- | --- |
| Length | 20cm |
| Width | 13cm |
| Height | 41cm |
| Net Weight | 1.17kg |
Product Name

Drinkmate OmniFizz Sparkling Water and Soda Maker, includes One 60L CO2 Cylinder

Drinkmate OmniFizz Sparkling Water and Soda Maker (CO2 Cylinder Not Included)

Drinkmate Soda Maker Carbonation Bottles 1L, Two Pack

Drinkmate Soda Maker Carbonation Bottles 0.5L, Two Pack

Drinkmate 60 Litre CO2 Cylinder for Home Soda Makers, Two Pack