Hisense 32 Inch HD VIDAA Smart TV 32A4KTUK – Natural
Hisense 32 Inch HD VIDAA Smart TV 32A4KTUK – Natural Enhancer, HDMI, Share to TV, and Youtube, Freeview Play, Netflix and Disney+ (2023 New Model), Operating System VIDAA [Energy Class F]
[HD Resolution] Watch your favorite movies, TV shows, games, and more in crisp HD resolution, and relish in the vivid color range and from a wide angle. Practically all of today's content is available in HD, making it the ideal companion for casually viewing the full array of digital content for an undeniably enjoyable TV experience.
[High Contrast] With High Contrast displays, highlights look brighter, blacks are deeper, and the colors are more vibrant. Improved contrast means dark parts of the screen are truly dark, while light areas are accurately lit. Feel the difference with contrast that's immediately visible on the edge between light and dark for a satisfying TV experience.
[Natural Colour Enhancer] The Natural Color Enhancer aims to bridge the gap between digital screen and reality, by optimizing the color reproduction in real time, able to pick up on even the smallest differences. Whether you're watching your favorite shows, documentaries, or movies, you're sure to enjoy your time with colors the way they were meant to be seen.
[Noise Reduction] The smart Noise Reduction feature is the optimal solution for combating grainy video. The TV is equipped to analyze the input signal and automatically detects, isolates, and reduces noise on screen to leave you with a crisp image. Enjoy your favorite shows and movies regardless of their original quality.
[Share to TV] The Share-to-TV function lets you bypass this issue with ease and grace. Share content from your other devices directly to your screen. Use "Screen Sharing" to mirror your device on your TV, or the "Content Sharing" option, which lets you continue to use your device while only sharing specific media on the big screen for everyone to enjoy.
[Depth Enhancer] Hisense TVs boosts immersion with Depth Enhancer software to create a greater sense of reality in whatever you're watching. By analyzing and adjusting the brightness and contrast of specific regions to create a greater sense of depth, you'll feel the picture truly come to life before your eyes, as if you could reach in and touch it.
[AI Sports Mode] AI Sports Mode enables the best picture and audio quality for the smoothest viewing experience. See every crack in the field, the players' determined stare, and the excitement of everyone in the audience, and hear every note of the commentator's voice. Hisense TVs intuitively sense and clean up and enhance fast-moving objects, for a perfectly fluid viewing experience.
[DTS HD decoding] With DTS Virtual:X, you can experience total audio immersion without relying on external speakers or reflecting sound. DTS Virtual:X almost uses digital sound processing to create immersion in any space and simulates true omnidirectional sound including "rear" and "height" channels with only the integrated TV speakers, to transform your movies, music, and gaming experience to deliver life-like sound above, beside, and behind you.
[Game Mode] End your losing streak with Hisense's Game Mode designed to improve your entertainment experience with gamers in mind. The smart feature reduces input lag to as low as 16ms so your skills can outshine the competition without interruption, stuttering, or other inconveniences, and you clutch the round on your road to victory.
[One Touch Access] In an effort to make life easier, the One Touch Access remote, lets you access your favorites with just the touch of a button, thanks to the dedicated and customizable buttons for services like Netflix, Prime Video, Rakuten TV and more. Even when switched off, the One Touch Access buttons instantly launch your favorite apps with just one click.
---
From the manufacturer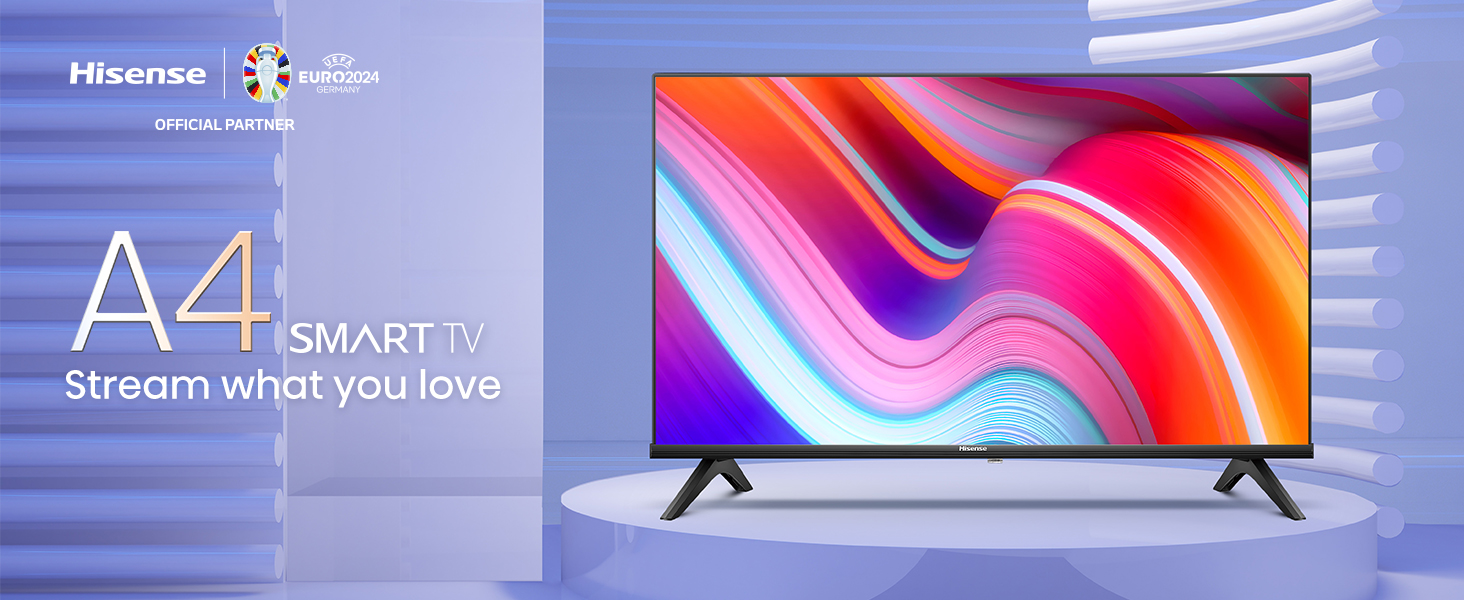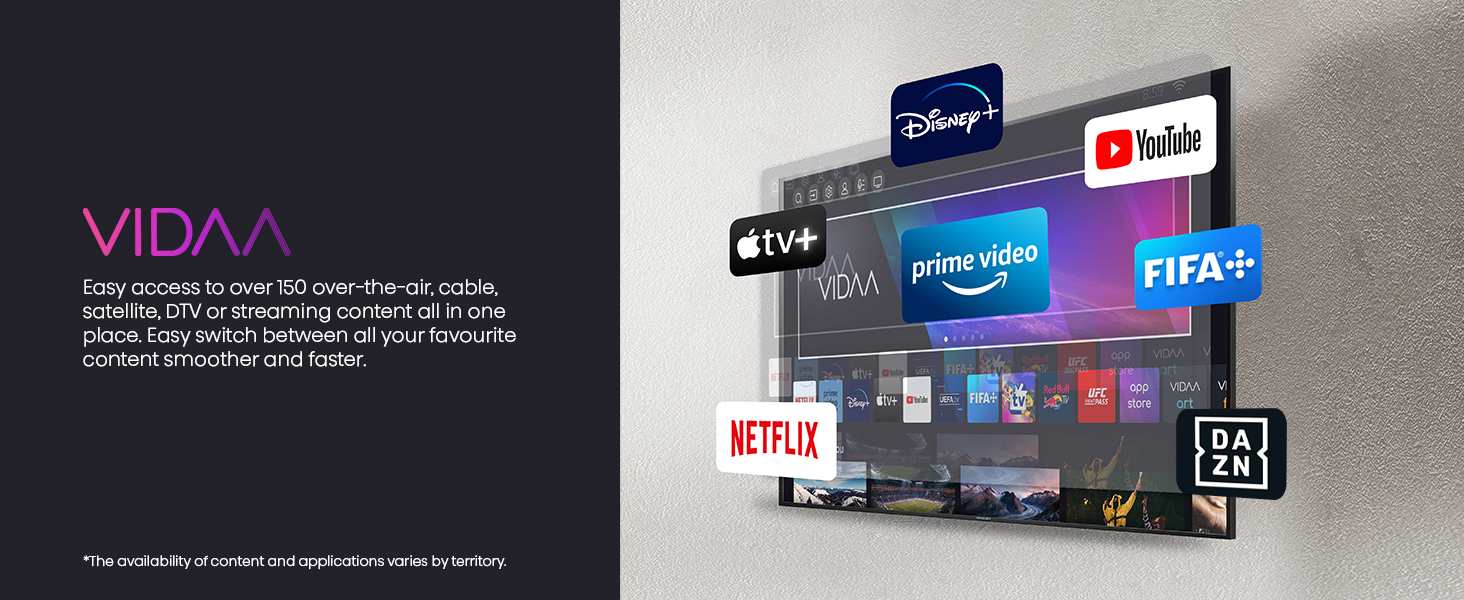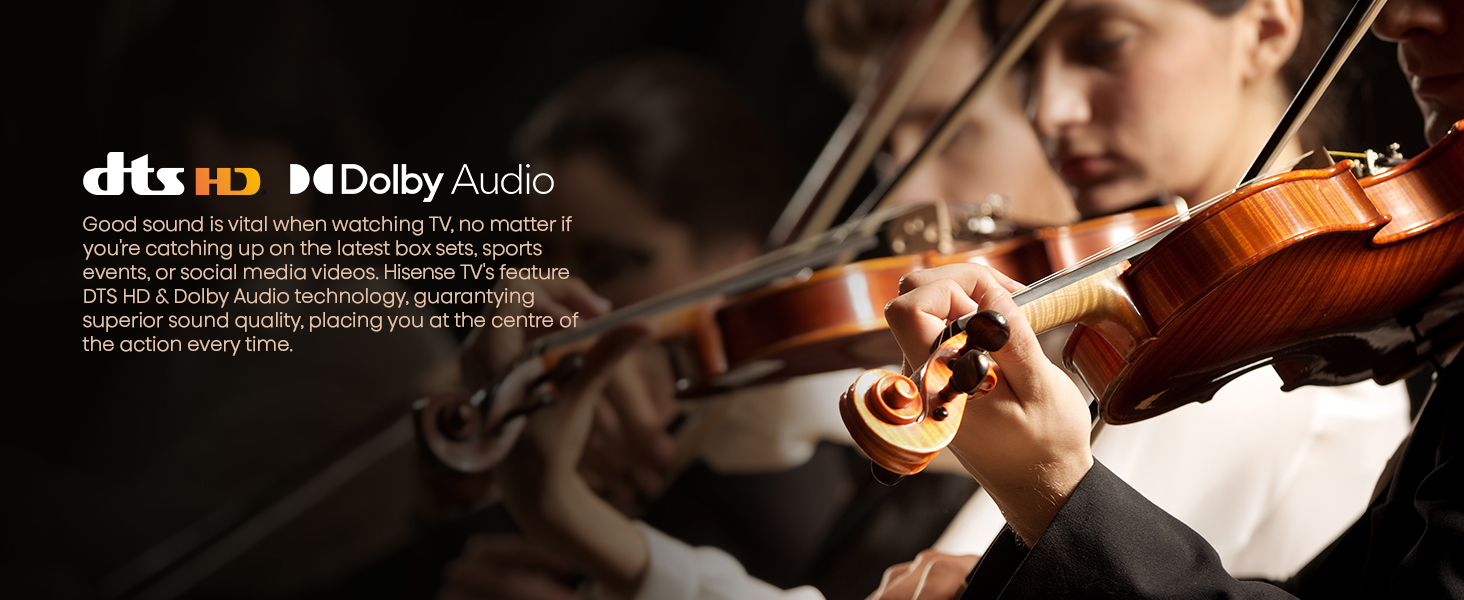 1
Share To TV
2
Full Connectivity
Compare Hisense 2023 TVs
| | | | | |
| --- | --- | --- | --- | --- |
| | A4K | E6K | E77KQ | E7KQ PRO |
| Size | 40″ / 32″ | 65″/ 55″/ 50″/ 43″ | 65″/ 55″/ 50″/ 43″ | 75″ / 65″ / 55″ |
| Display Technology | FHD / HD | UHD | QLED | QLED |
| Panel Refresh Rate | 60 Hz | 60 Hz | 60 Hz | 120 Hz / 144 Hz VRR |
| Quantum Dot | ✘ | ✘ | ✔ | ✔ |
| Dolby Vision | ✘ | ✔ | ✔ | ✔ |
| Audio | 2.0 | 2.0 | 2.0 | 2.1 |
| Audio Enhancement | DTS Virtual X | DTS Virtual X | Dolby Atmos | Dolby Atmos |
| Operation System | VIDAA 6 | VIDAA 6 | VIDAA 6 | VIDAA 7 |
| Multiple Voice Assistants | Works with Alexa/VIDAA VOICE | Alexa Built-in/VIDAA VOICE | Alexa Built-in/VIDAA VOICE | Alexa Built-in/VIDAA VOICE |
| Screen Mirroring | ✔ | ✔ | ✔ | ✔ |
| Airplay | ✘ | ✔ | ✔ | ✔ |