WaTsKY Mini Fridge Glass Door Soda Beer Wine Stainless Steel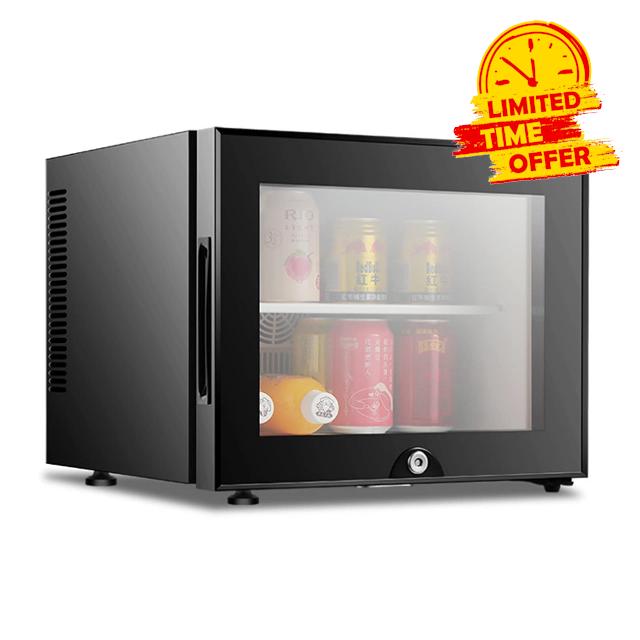 WaTsKY Mini Fridge Glass Door Soda Beer Wine Stainless Steel Low Noise Energy Saving Glass Door With Lock Fridge,20L Small Fridge For Hotel Rooms Dormitory
The mini fridge is lightweight, its beautiful appearance and design, and complete function will bring you convenience, especially after hard work, enjoy the cold drink and reduce fatigue.

▪ Easy to use: Just close the AC220V-240V outlet in your home to power the refrigerator.

▪ Applicability: The compact refrigerator is compact and can be placed almost anywhere. Easy to integrate into the living environment, suitable for living room, storage room, hotel, campus dorm, single apartment and more. Doesn't take up space.

▪ Large capacity: 20L large capacity, use this small refrigerator to store drinks, beer, snacks, breast milk, skin care products, etc. to meet your daily storage needs.

Product specifications

Means of control: Mechanical control

Cooling type: Compressor refrigerator

Temperature control: Adjustable thermostat

Net capacity: 20L

Rated voltage/ Frequency: 220V/50Hz

Input power: 55W

Noise level (dB): 28dB

Product size: 13.7*16.5*15.7 inches

Power consumption: 0.5KW.H/24H

Weight: 7.5kg/16.5lb

Opening method: side-opening door
COMPACT BUT SPACIOUS: Despite its small size of 13.7*16.5*15.7 inches, this small fridge offers 20L large refrigerated storage that can hold 26 cans. The removable shelf further increases storage flexibility and makes cleaning easier. The ideal fridge under your desk, you'll never go thirsty (or hungry) with this contender by your side.
QUIET & ENERGY EFFICIENT: This small refrigerator with low noise design has a noise level below 28db, providing a comfortable and quiet indoor environment for your living and working conditions. Assisted by it consumes only 0.55kWh of electricity per day, saving your energy bills and allowing you to live a healthy, low-carbon lifestyle
ADJUSTABLE THERMOSTAT CONTROL: This mini fridge's thermostat control offers 3 temperature settings from 28.4' to 50' Fahrenheit, for a better adjustment to the outside temperature to keep your energy bills down. This small fridge also comes with a light freezer compartment for ice cubes
DOUBLE GLASS DOOR: Steel shell cabinet with stainless steel clad glass door. Double pane tempered glass door and airtight seal ensure maximum insulation. The clear double glass door makes it easy to see which drinks are being chilled.
NO VIBRATION AND QUIET: Equipped with an advanced cooling system that keeps your drinks at the right temperature without any noise. Without disturbing the naturally occurring sediments. Equipped with moveable black shelves, glass door and adjustable leveling feet. It is convenient for customers to move the position of the drinks cabinet, and they can have cool drinks or wine anywhere.
| | |
| --- | --- |
| SKU: | B0C77Q1LK6 |
| Brand: | WaTsKY |
| Model: | WaTsKY |