Inofia Mattress,Memory Foam and Spring Mattress 25cm,SMAX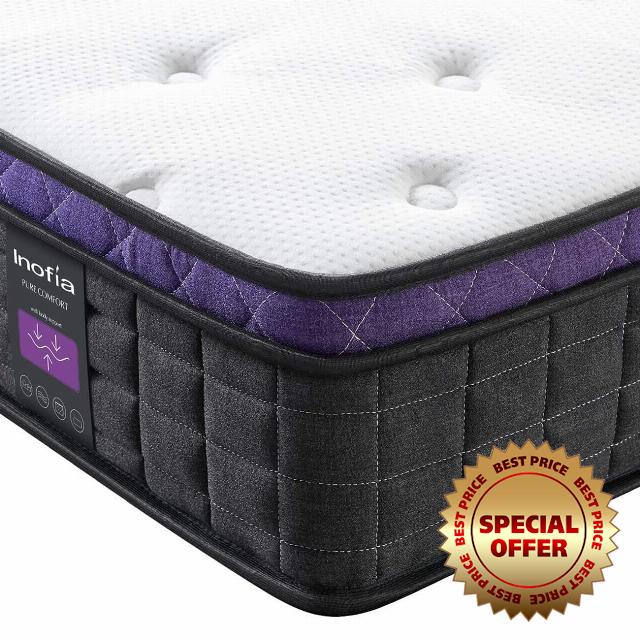 Inofia Mattress,Memory Foam and Spring Mattress 25cm,SMAX Collection,Sleeping Maximum,Motion Isolated Zero Pressure Hybrid Mattress,Support and Responsive Zoned Spring,100 Night Test (180×200cm)
Zero-Gravity Sleep Experience The Inofia SMAX Collection takes your comfort to new heights with 25cm of modernized sleep technology and a hybrid medium-plush surface. Designed to conform to the spine's natural curves that allowing you to experience a relaxed sleep.
Advanced AIRYUM Memory Foam Advanced AIRYUM memory foam that wraps you up in comfort and a feeling sleeping in the clouds, Upgrade breathable memory foam, which has better air circulation than other memory foam. Minimize the pressure on your body, relax your muscles, keep your spine aligned naturally, and provide excellent support for your entire body.
Ultimate Responsive Movement The best combination of support foam and individual pocket springs, support free rollover, sealed and filled, which can respond to every movement of the body, when you move the body, the pocketed spring support every curve of the body to provide a healthy and comfortable support massage.
Premium Knitted Quilted Cover The mattress is made of a 100 percent natural material knit fabric which can absorb moisture, dries quickly, and helps your body breathe, which help a lot for perspiration. Ideal for children and adults.Exquisite modern outlook appearance design, decorate your room with good taste, super good cost performance.
Buy Smart Inofia Inofia will vacuum pack your mattress into a box, and then ship it directly to your door for your convenience.please give it enough time to adjust you after the first impression. as your body needs up to 4 week's time to get used to a new mattress.for more details,please contact inofia first.
| | |
| --- | --- |
| SKU: | B07WCG4WYR |
| Weight: | 38.8 kg |
| Dimensions: | 142 x 29 x 29 cm; 38.76 Kilograms |
| Brand: | Inofia |
| Colour: | White Mesh Knitted Fabric+purple Diamond Shaped Sides+black Mesh Side Panels+grey Non-slip Backing |
| Colour: | White Mesh Knitted Fabric+purple Diamond Shaped Sides+black Mesh Side Panels+grey Non-slip Backing |
---
Product Description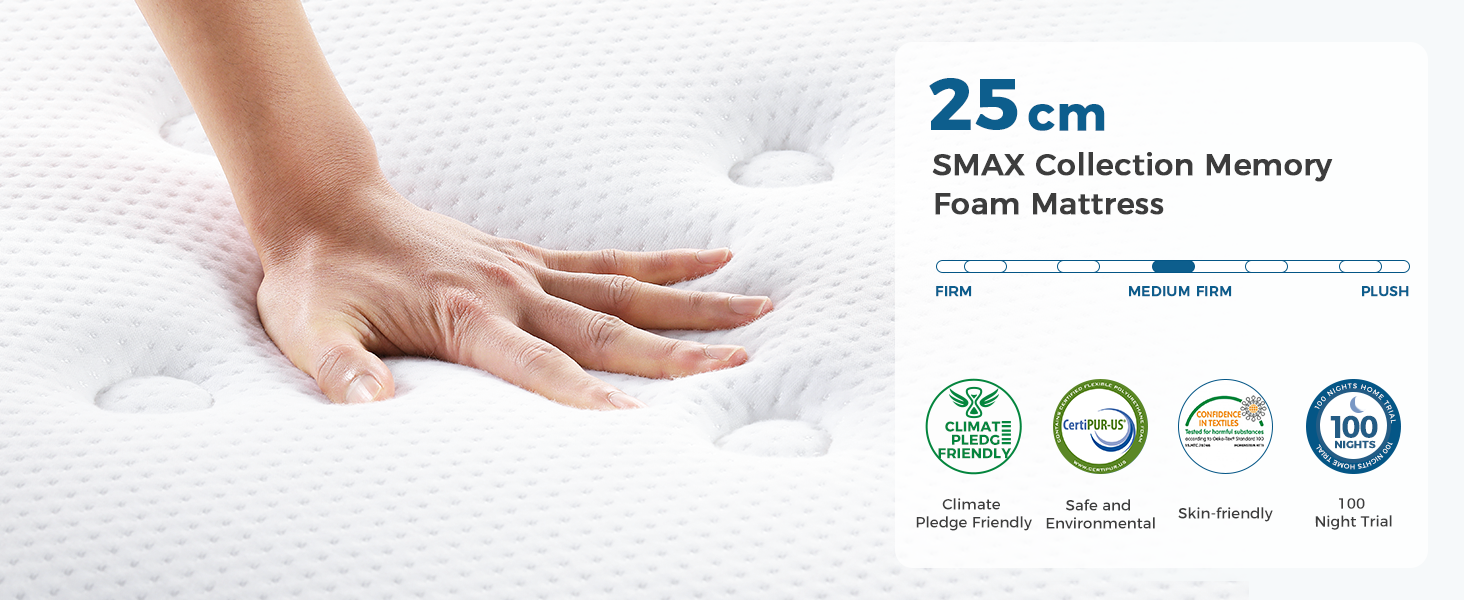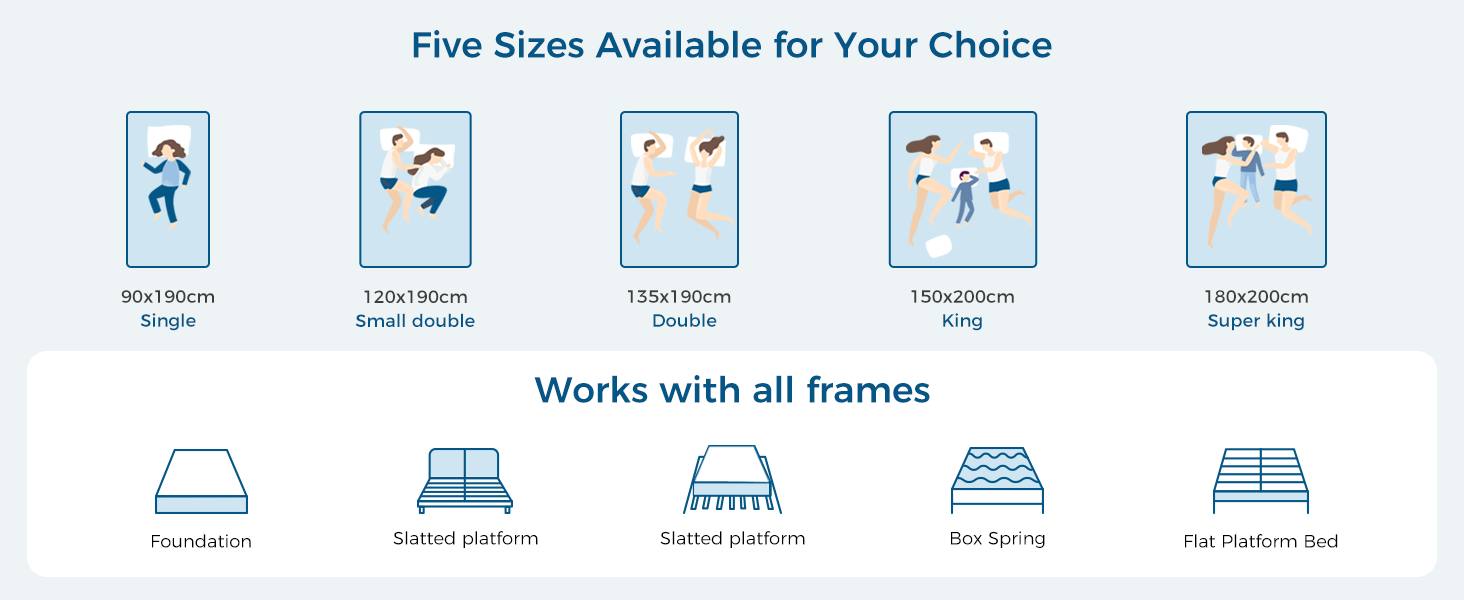 How long will a mattress last?
Inofia mattresses have successfully completed ASTM F1566 mattress durability testing. This rigorous "Rollator" test involves rolling a 240-pound weight over our mattress 100,000 times, and it did not show any signs of significant sinkage or wear.
How does the Inofia mattress feel?
Everyone's experience of mattresses feels different, but our Inofia memory foam mattresses have been sleep tested in the UK and meet the firmness preferences of most British sleepers.
Where are Inofia products sales?
Inofia is a much more lively brand of mattress on Amazon. Our mattress receives great popularity in the UK,US,Canada,Germany, South Africa,and Japan has been highly supported and recognized by 1,000,000 families precisely of quality and service.
What certifications do the Inofia mattresses have?
The Inofia Mattress is certified by BS 7177 fire detection, OEKO-TEX Standard 100, and CertiPUR-US Security Program which means your new Inofia mattress is performance-tested and durability-tested by independent, accredited testing laboratories.
What makes the Inofia mattress different?
Inofia spent years researching the magic and science of sleep. Every Inofia mattress is shipped fast and safely to your front door. And if it's not a perfect fit, we'll back off your amount and work with you to get the mattress donated or recycled.
SMAX Collection
Find Perfect Colletcion
Hybrid Mattress

Mattress Type

Hybrid Mattress

Responsive Springs

Support Structure

Shock Pocket Spring

AIRYUM Memory Foam

Foam Structure

Smart Versatile Foam

Meidum

Comfort Scale

Meidum

Motion Isolation

Features

Low Motion Transfer

25cm

Profile

27cm

Mattress in a Box
Hybrid Mattress

Mattress Type

Hybrid Mattress

Responsive Springs

Support Structure

9-Zone Pocket Sprung

AIRYUM Memory Foam

Foam Structure

Dynamic Memory Foam

Meidum

Comfort Scale

Meidum

Motion Isolation

Features

Back Pain Helped

25cm

Profile

22/25cm

Mattress in a Box
Hybrid Mattress

Mattress Type

Hybrid Mattress

Responsive Springs

Support Structure

7-Zone Pocket Sprung

AIRYUM Memory Foam

Foam Structure

Natural Memory Foam

Meidum

Comfort Scale

Meidum

Motion Isolation

Features

Highly Breathable

25cm

Profile

29cm

Mattress in a Box
Hybrid Mattress

Mattress Type

Hybrid Mattress

Responsive Springs

Support Structure

Barrel-Type Spring

AIRYUM Memory Foam

Foam Structure

Cloud Memory Foam

Meidum

Comfort Scale

Meidum Soft

Motion Isolation

Features

Pressure Relief

25cm

Profile

30cm

Mattress in a Box
Elegant collection
HOPE Collection
Airflow Collection
L & Y Collection